Gift cards for children instead of parcels
Gift cards for children instead of parcels – the perfect way for an ideal gift for your employees' children.
Replace parcels for the employees' children with gift cards to make sure they get the gift of their dreams.
Order online
Ask for product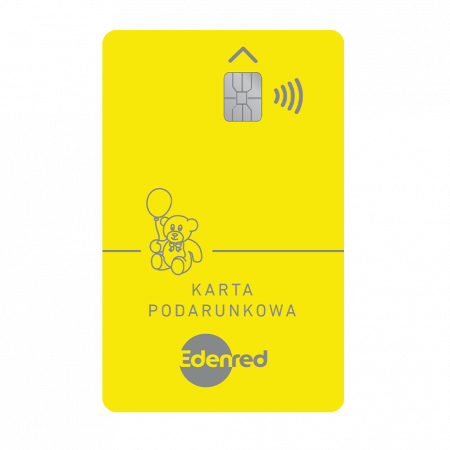 After all, only the children know what they really need. The gift card is a perfect solution to offer gifts to the children of your employees for Children's Day, Saint Nicholas Day or special events. It replaces conventional parcels and material gifts, letting the children pick their own perfect gift. The funds on the card can be used, for instance, in stores with toys, books, games or children's clothing, at amusement parks, online or via contactless payments using the Apple Pay or Google Pay™ applications.
Order online
Why choose gift cards for children?
Learn about the benefits

You always select the right gift
In the spirit of innovation, the card makes it possible to choose the perfect gift.

You reinforce CSR and Employer Branding
When you choose gift cards for children instead of parcels, you support the Akademia Przyszłości [Academy of the Future] charity and receive a Certificate of a Motivating Company.

Quick delivery and savings on the budget
You no longer have to spend long hours on the preparation of parcels and you can also use the exemption from income tax of up to PLN 2000 per fiscal year (if the card is financed by the Employee Benefit Fund).
Children's joy guaranteed – with a customised gift card, parents can buy the gifts their children expect, and teenagers can enjoy the thrill of making their first card payment.
The card offers full security and control – using the myedenred.pl website or a free mobile application, the parents can check the balance on the card and transaction history, in particular, and have complete control of the card.
Extra benefits for your employees with attractive discounts in the savings programme, which is also available after the funds on the card are spent.
Discover other products and benefits
Gift card for children – FAQ
What area / chain store is preferred by the companies?
The most frequent categories include stores with goods for children, i.e. clothing for children and babies, toy stores, cinemas, bookshops, sports stores and shoe stores with a children's section, stationery stores, school supplies, games and amusement parks.
What stores accept the card? What is the card acceptance scope?
The acceptance network for the gift card for children can be customised at will as required by the Client; the recommended categories of services/products for children include: bookshops, games rooms, dinosaur parks, stores with children's clothing, toy stores, sports stores, games, amusement parks, cinemas and other, in accordance with the Client's wishes.